Description
Introducing our most advanced sensor and app yet!
Comes with FREE LIFETIME app subscription!
Access a healthy and high-performance state called heart coherence, where your heart and brain are in sync — this helps you prevent or reduce stress, anxiety, and overwhelm, improve health and performance, and clear your thinking for more effective choices.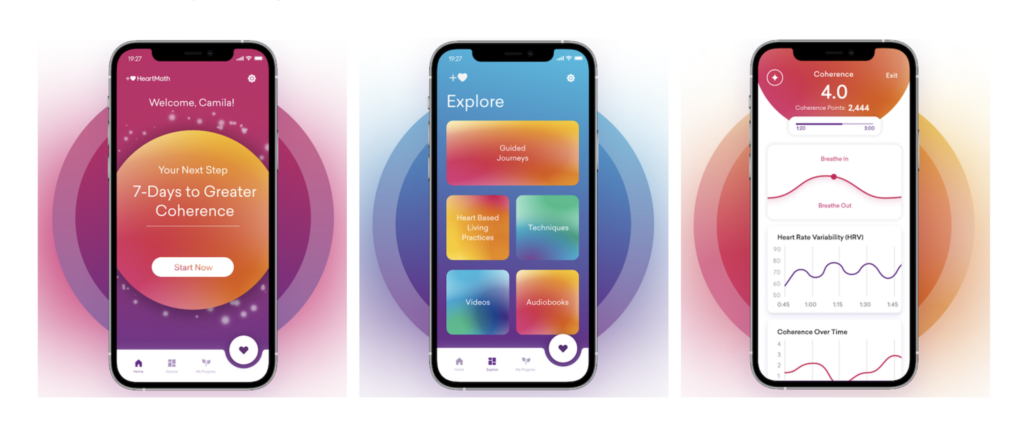 Use real-time heart rhythm coherence biofeedback and evidence-based techniques to live a healthier, happier life.
Elevate your mental and emotional wellness!
Learn to elevate your emotional state in the moment and become aware of and release accumulated stress so you feel better and think more clearly.
Backed by 30 years of pioneering heart-brain research, the Inner Balance Coherence Plus measures and translates your heart rhythm patterns (HRV) into real-time coherence scores.
This trains you to get your heart and brain in sync, which prevents and reduces stress, anxiety, and overwhelm, improves health and performance,and clears your thinking for more effective choices.
With just a few minutes of daily practice, heart coherence becomes easily accessible for more balanced, effective, and healthy living. Over time, you'll be equipped with a skill set that you can apply, even without the app, in all aspects of your life.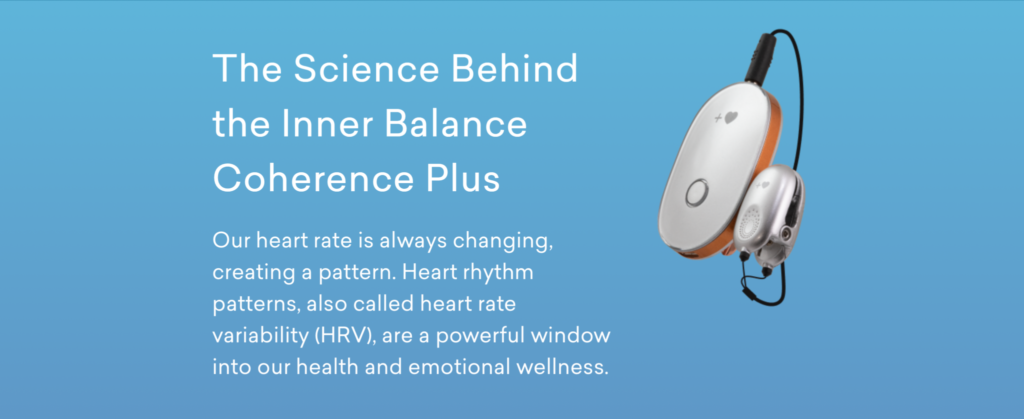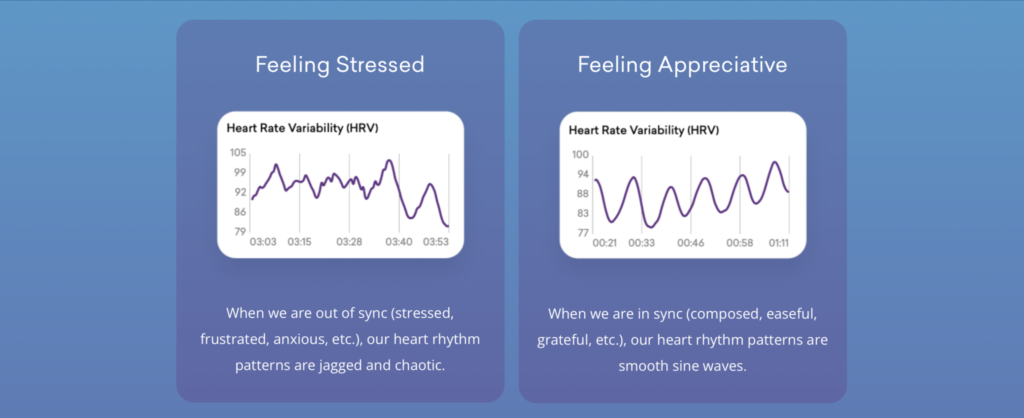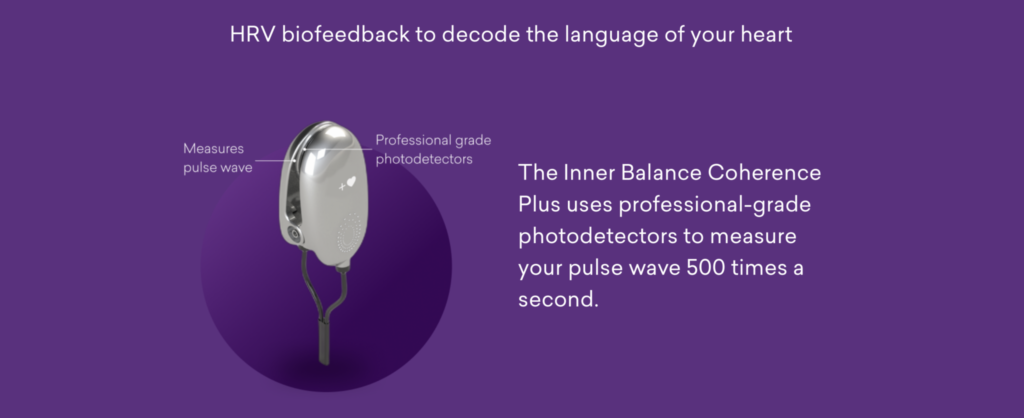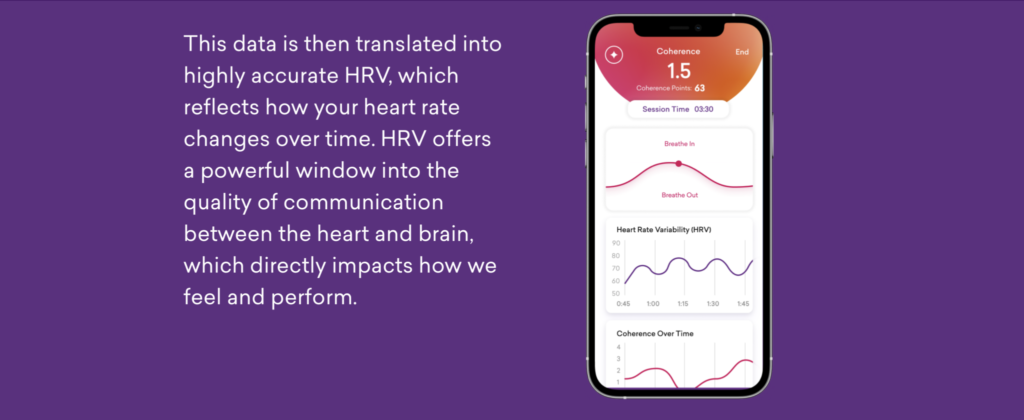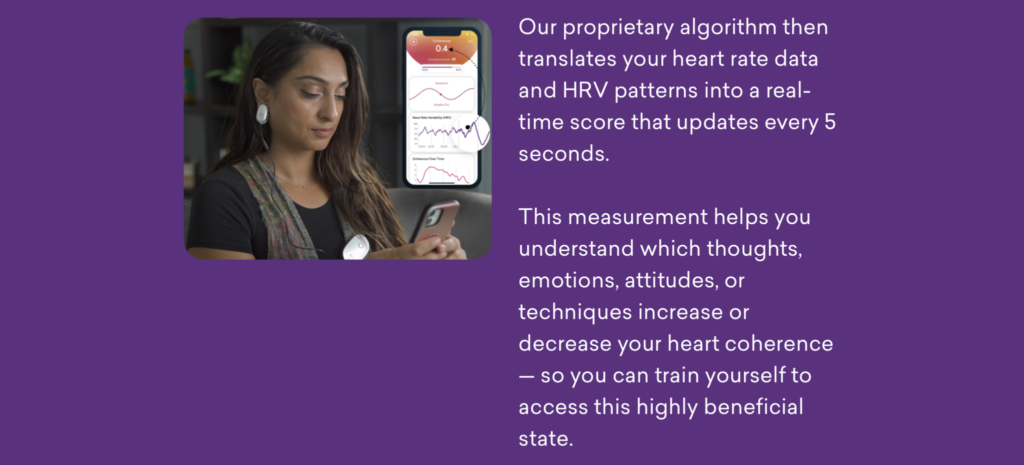 Hours of video and audio content designed to activate meaningful change throughout your life.
The HeartMath® app is much more than coherence measurement. Expert-led content included in the HeartMath companion app helps you build a coherence skill set through courses, learning journeys, and practices designed to help you activate meaningful change throughout your life — everything from powering up your day with more energy, effective decision-making, getting along with others, releasing the day's tensions, better sleep, and much more.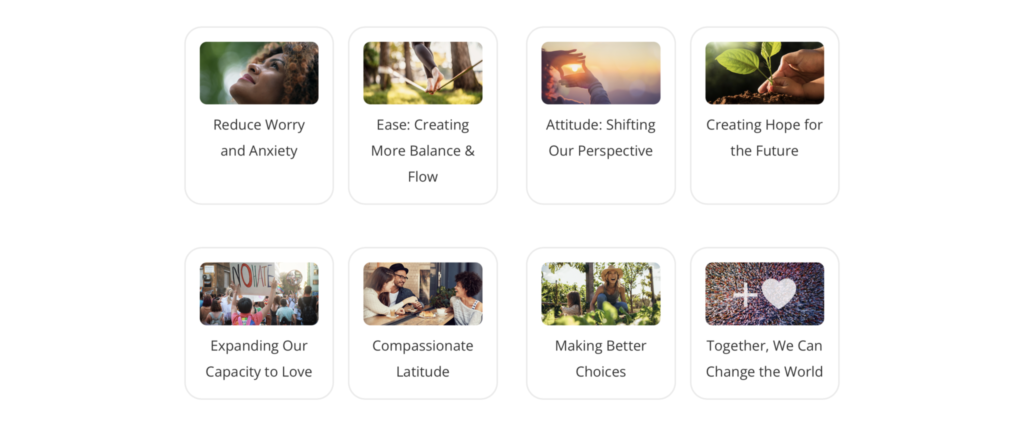 Easy-to-learn practices you can use on the go anytime, anywhere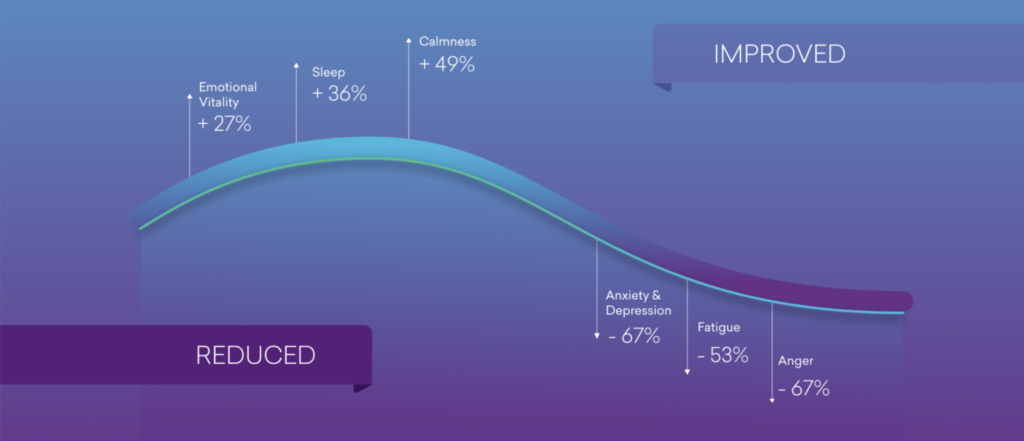 Proven Benefits of Heart-Brain Coherence
PREVENT AND RELIEVE STRESS, ANXIETY, AND OVERWHELM.
Heart coherence softens and reduces the effects of chronic stress and anxiety, filling your life with more calm, joy, and inner security.
CULTIVATE EMOTIONAL BALANCE, CLARITY, AND COMPASSION IN YOUR RELATIONSHIPS, CAREER, AND LIFE.
Heart coherence helps you understand the language of your emotions and enhances intuition — strengthening your ability to navigate life effectively.
HAVE MORE ENERGY THROUGHOUT THE DAY.
Stop draining your energy with depleting reactions to life's stresses — instead, learn to quickly recharge your energy reserves so you can enjoy more of what's meaningful and important to you.
ACCESS DEEPER INTUITION.
Tuning into your heart's wisdom creates a profound inner shift, giving you a chance to create (not wait) for your fulfillment.
UPLIFT YOUR LIFE AND THE LIVES OF OTHERS.
Live a heart-based life infused with more care, connection, compassion, hope, and other renewing heart qualities.
App includes hours of Coherence Training, including:
Heart Focused Breathing
Quick Coherence
Heart Lock-In
Attitude Breathing
Compassionate Latitude
Cut-Thru
Inner Ease
Guided Journeys
7 Days to Greater Coherence
7 Steps to Greater Brain Fitness
5 Days to Less Stress
5 Days to Adding Heart to Meditation and Mindfulness
4 Days to Better Sleep
Video Learning
The HeartMath Experience (9 modules)
Transforming Stress
What do you do when (Series of 4 videos)
Ask the Scientist (Series of 7 videos)
Understanding Coherence
Add Heart Facilitator ( 5 modules)
Full-length Audio Books
Heart Intelligence
The HeartMath Solution
Heart Based Living Practices
12 Tools
Attitude: Shifting Our Perspective
Inner Dignity: Aligning with Our Higher Purpose
Ease: Creating More Balance & Flow
Objectivity: Resolving Issues
Stillness: Managing Our Energy
Love / Expanding Our Capacity to Love
Anchoring: Help in Transformation
Coherent Communication: Creating Deeper Connections
Compassionate Latitude
Forgiveness
Humility: For More Peace
Patience
10 Practices
Creating Hope for the Future
The Importance of the First Few Minutes of Your Day
Making Better Choices
Prep for Desirable Outcomes
Making Good Use of "In-Between Time"
Spot Check – A Quick Conscious Self Assessment
Worry and Negative Projections Impair Important Decision Making
Getting Along with Each Other
On Pursuing Our Purpose
Together, We Can Change the World
AND… The Inner Balance Coherence Plus sensor functions with two additional FREE HeartMath apps!
The Inner Balance app is for personal coherence practice and the Global Coherence app is for group coherence meditations.

What's in the Box?
Sensor Pod
Ear Clip
Ear Cable
USB-C Charging/Connector Cable
Quick Start Guide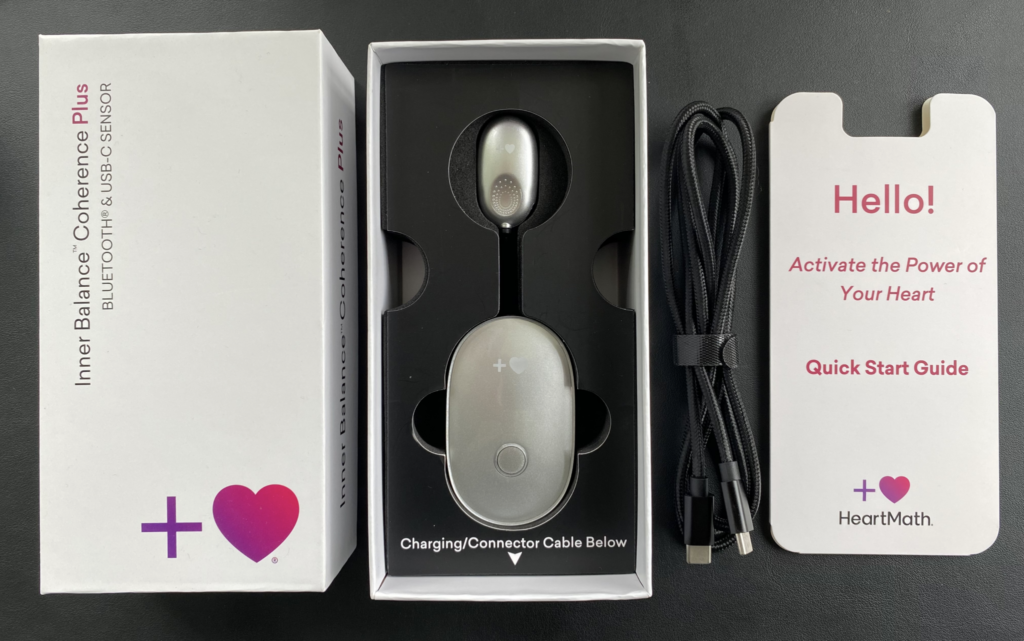 Specifications
BLUETOOTH COMPATIBILITY*
Requires Bluetooth 4.0 or higher
ANDROID
This product is designed for use with Android v9.0 and above.
IOS
Requires iOS 16.0 or above; works with iPhone 6s and iPad OS 15 generation and newer.
*Inner Balance Bluetooth uses BT4.0 (BLE–Bluetooth Low Energy), which works at an output power range of 0.5 milliwatts (mW) or less — this is significantly lower than mobile phones, which typically have output levels between 250 mW and 2000 mW. The tiny Bluetooth emitter is in the module that attaches to your garment, not in the ear sensor. Inner Balance Bluetooth is compliant with applicable FCC tests.
PACKAGING
Box Size: 6.5 x 3.6 x 2.03 inch (16.5 x 8.4 x 5.1 cm)
Weight: 6.9 oz (195.6 g)
SENSOR WEIGHT
Weight: Pod 1.1 oz
Ear .4 oz
Total 1.5 oz
SENSOR SPECIFICATIONS
Ear Clip Size without cable: 1.25 inch (31.75 mm)
Ear Clip Size with cable: 19.5 inch (49.5 cm)
Pod Size: 2.75 x .75 x 1.125 inch
USB-C Cable Length: 4 feet (122 cm)